Ocean One Barbados & the late Dipnarine Dhanoo, Structural Engineer.
Cover story (Issue 1. Vol 1)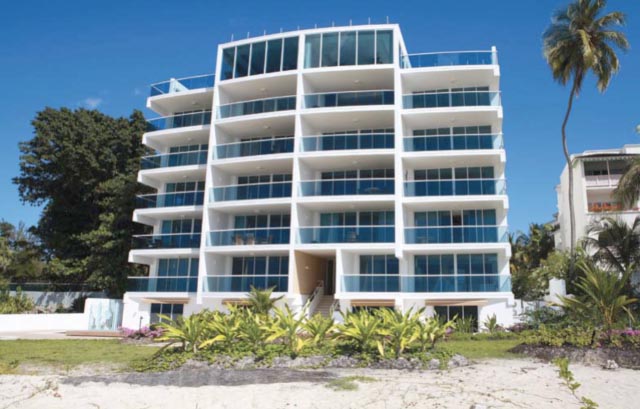 When this issue of Caribbean Construction Digest (CCD) is published, we were happy that we would have taken the first and most difficult step in our journey towards making a valuable contribution towards the development of the region's construction industry. At the same time,
perhaps our deepest regret wil be that our dear friend and colleague Dipnarine Dhanoo (deceased) will not be around to share in our celebration. Whilst the industry has lost the services of a talented and experienced Structural Engineer, we have lost a colleague and a friend.
Dip's support, matter of fact opinions and humor during the compilation of this pilot issue shadows our achievement. However, it was never in Dip's nature to be sad or reminisce about what could have been. He enjoyed life and all that it had to offer. He was always happy and nothing gave him more joy than seeing others happy. Thus, it is a pleasure for us to dedicate this issue of CCD to the memory of Dipnarine Dhanoo by featuring one of the last projects (Ocean One, Barbados) which he worked on, before meeting his untimely demise. May his soul rest in peace and may he continue to inspire us, even after death.
About Ocean One
Ocean One is an exclusive new beachfront boutique property of 21 privately owned units. The
accommodations offer ultra stylish and contemporary beachfront living unlike any other, featuring some of the most high end finishings and amenities in Barbados.
Features
Unique and modern design.
Spacious: no less than 1389 sq. ft.
Luxuriously furnished including the Italian designed kitchens and bathrooms, each with their own individual style and flair, furnishings and list of available amenities, each offering its own flavor of the luxury and comfort
Large glass fronted ocean view balconies
Access to the communal pool, Jacuzzi, gym, beach front garden and terrace.
24 hour security,
Private driveway and parking,
Manned reception
Elevator access to all floors.
Location
Conveniently located: 15-20 minutes away (driving distance) from the airport and same distance from the main shopping and city centre, Bridgetown.
Situated away from the main road and offers tropical beauty, peace and tranquility in a luxury beach front setting.
Offers direct access to the quiet, pristine white sand Maxwell beach and to some of the best dining, shopping and nightlife in Barbados, including St. Lawrence Gap and Oistins.

Dip's Role in Ocean One
Affectionately known as "Dip" to all the project team members who worked with him over the years in his role as Structural Engineer on the last two Ocean Living projects, Ocean One and Ocean Two (still under construction), Ocean Living's Melissa Chalbaud recalls that Dip was an integral part of the team and a friend to all.
One of the unique characteristics of Ocean Onelies in the fact that it has a façade unlike any other condominium in Barbados. The inspiration for this came from the modern condos which were rising rapidly along the Florida coastline. However the many challenges faced by the team during planning and building were never overwhelming for Dip. His ability to be flexible and adapt to the ever changing demands of the project were central in making the project the success that it is. Dip's simplicity as a person was contrasted by his expertise as a Structural Engineer. To fully appreciate the competence offered by Dip during this project, one has to listen only to the testimonial of a NASA engineer who purchased a residence at Ocean One. He expressed his complete approval and satisfaction with the structural integrity of the building and assured that he had inspected every beam himself.
The co-developer of Ocean One and Ocean Two, Peter deFreitas, met Dip through the co-developer of Ocean One, David Ellsmore and local architect, Anthony Hoad. Peter met Dip in 1995 on site at the Bougainvillea Beach Resort where he was the Structural Engineer on the project. Over the years, these two met on various occasions with Dip providing advice on South Beach Resort & Vacation Club and then becoming the Structural Engineer for
Peter's two subsequent projects, Ocean One and Ocean Two.
Ocean One sold out upon completion and has remained in high demand for both re-sales and rentals. Dip then continued his work with the Ocean Living team on Ocean Two but unfortunately, Dip never saw the Ocean Two project to completion. Without a doubt, he has left his mark not only on the building but on all those he came into contact with. Dip was amiable, easy to work with, flexible and always pleasant; nothing was ever too large of a problem. These character traits ring true to Peter deFreitas who recalls that no matter what change he, as the developer, wanted to make, even during the course of the project, Dip's response was always, "Peter, tell me what you want and I will design around it for you!"
Ocean One Project Team Developers:
Peter DeFreitas and David Ellsmore
Architect: Anthony Hoad of
Anthony Hoad Associates Ltd
Structural Engineer: Dipnarine Dhanoo of
Dipnarine Dhanoo & Associates Ltd
Mechanical and Electrical Engineer:
George Nicholson of ADeB Consultants Ltd
Quantity Surveyor and Project Manager:
Graham Bethell
Main Contractor: Innotech Services Ltd.
Interior Designer:
Nhora Quintero of NCQ Design
Dipnarine "Dip" "George" Dhanoo
31st May 1957 – 27th May 2008

Son of: Deonarine and Latchmin Dhanoo.
Place of Birth: #57 Matilda Road, Princes Town,
Education: Indian Walk Government Primary School in Princes Town.
St. Stephens College
The University of the West Indies
(Bsc. Civil Structural Engineering)
Early Work Experience: Ben Construction Limited, Lange Ballast, Trinidad Contractors and
Project Control and Associates.
Last Employer: "Dipnarine Dhanoo & Associates". Services: Structural Designs, Architectural Designs, Project Management and Quantity Surveying.
Affiliations: Kenneth Charles, Nigel Ali, Barry Franceschi, Geoffery Agostini, Steve Rajpatty and Hakim Salim
Major Projects: Accra Beach Hotel & Resort (Barbados)
Bourganvilla Beach Resort (Barbados)
Personal Traits: Down–to-earth and simple with his happiest moments being spent with his family. He taught others: appreciation, thoughtfulness, generosity, impartiality and love