China Revisited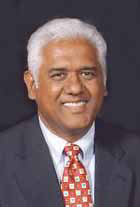 Jefferson Sooknarine  MSc. (Stanford-Sloan Fellow)
In addition to visiting several Asian countries, I have made three visits to China over the past fifteen years, the last being in 1999. Since my retirement, my wife Nyla and I have been trotting the globe; With China being a recent destination. When compared to 1999, what I saw in China in 2009, as far as active construction is concerned, was a real shock to me. What I witnessed in Guangzhou, Beijing, Xian, Shanghai, Yiwu and Haining, can well be described as amazing, miraculous and breathtaking. It is impossible to truly appreciate without seeing it. Words almost cannot describe this level of development. I will try, but in this case the old adage "seeing is believing" definitely holds true. What I can say, is if you want to witness first hand what "a multitude of megaconstruction projects" is like, you simply must visit China. Taken in the context of the current recession, the phenomenon of China is extremely noteworthy, especially to those in the field of construction. During my first visit in 1995, I immediately noticed quite a few tower cranes with active sky scrapers being erected. My guess was that that throughout the city there were at least 20 of these cranes.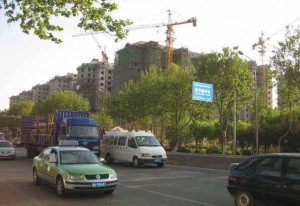 During my most recent visit, I counted just about 50 of them littering the skies. Of all the cities I visited, Xian, the ancient capital of China, was the most astounding. There were no less than 300 active tower cranes. In Shanghai there were approximately 100 cranes; while in Guangzhou I saw more than 80 of them.
In one case, in Xian, I stopped my car and counted 12 towers across and 5 towers deep, totalling 60 towers. Each tower had 30 storeys and each storey had 24 units. That made a whopping total of 43,200 living apartments. In the area within a 5 mile radius of Xian, I was told that there were over 30 million inhabitants. In Xian, I saw at least 40 recently constructed condominium complexes, many of them over 40 storeys with high with up to 30 of these towers in one development.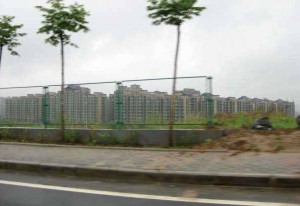 I noted that all the towers in each development had the same design and colours. What is more amazing is that the construction of each of these complexes was completed within two years. Yes….I said two years! When a Chinese national told me this, I nearly swallowed one of the nearby cranes! When I compared this achievement to our "tiny overpass" on the Uriah Butler/ Churchill Roosevelt intersection (Trinidad), I admitted that Chinese projects are bordering on nothing less than miraculous. In the Caribbean, when the Port of Spain skyline is littered with 6 relative small buildings (those constructed within the last 3 – 4 years) we regard these as "exemplary". With such simple standards, our Caribbean eyes can never appreciate construction on a massive scale, unless we visit a place like China. I have been to more that 60 countries across the globe and countless major cities, and I have never seen construction activities on such a huge scale. Dubai is a far second on my long list.
With the pervasive buzz about global recession and economic meltdown, today China tops the list as the most shocking exception. Recently I saw a television documentary called "Chinamerica" whilst I was in Orlando. It explained that the China economy is so intertwined with the U.S.A that they both need each other more than any other. China produces and sells to the U.S.A. It collects countless billions which it invests liberally in infrastructure development. The huge balances are invested in various U.S.A institutions, especially U.S. Government instruments. The massive economic relief programs by the Bush and the Obama administrations came from China borrowings. So U.S.A consumes like an unbelievable eating machine and it borrows from China to satisfy its endless appetite. These transactions also have a significant impact on balance of trade as well as exchange rate factors, both of which are sore points in terms of China/America government relations. Americans argue that China should consume more U.S.A goods, but the more valid argument should be that the hungry giant should consume less than it does. In fact, overconsumption is what has led to the economic woes plaguing the world. It is interesting to note that the Chinese only eat until they are three quarters full; with the belief that a little under consumption will increase their longevity.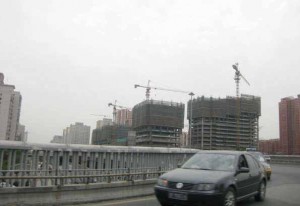 Infrastructure development in China is the other phenomenon just short of a miracle. You simply cannot imagine thousands of miles of 3 lane highways, constructed in recent years, with 30 or 40 feet of well manicured, shrubbery, greenery and flowers, in addition to all medians with at least ten feet of landscaping. Perhaps you have to compare what existed before to what exists now. I could not believe my eyes, when I saw over 150 miles of Beijing highways with the most prolific and colourful roses you could every possibly imagine, lining the middle and sides. Roses on 150 miles of highway? Only a disciplined nation could achieve a feat like that! The Chinese construction worker expects to work from 7.00 am to 7.00 pm, for six days of every week.
To appreciate the changes in China, one MUST also view this country in the context of the population of over 1.5 billion people, who just thirty years ago, were living primarily on potato and corn. They all wore the same clothes, the same color, every day! They owned no real estate or businesses. They saw no outside television and heard only the Government controlled radio station. They expected and knew nothing better. China was a failed State. Today, we see an infinite number of massive factories, real estate developments and business entities, growing at record rates. If the success of a country is to be measured by growth rate of the economy or the people, then the world needs to be more aware of the reality and the truth about the China of today. Based on what I have seen in China and America, then my prediction is that one day, China will indeed rule to world!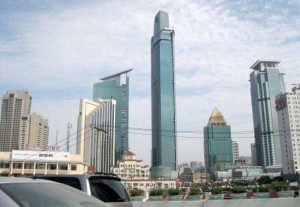 America's position as the most powerful country in the world, may well be in jeopardy, in the not too distant future. Discipline is also a world model in China. During my three week visit, I saw many policemen. Not one of them carried a gun. Crime is unbelievably low, punishment whenever it has to be meted out is harsh. Wherever corruption is detected, the criminals are dealt with in an exemplary fashion. Government officers, at every level, are punished very severely, if caught.
To all our readers…I hope that the selection from the hundreds of photos I took in these cities will give you a minute idea of what reality is, in terms of "China – The Eight Wonder of the World". Closer to home…I hope that this brief report could help us in the Caribbean to redefine our concept of "Development". It is only when we visit and witness what is happening in a place like China, that we can begin to experience "Development" in the true sense.
Jefferson Sooknarine is a graduate of The Stanford Business School. He was the Managing Director of Harricrete Ltd for the first ten years of the company's operation. He is now happily retired and spends his time touring the globe with his wife Nyla. You may contact Jeff by email, with any "Comments, Questions, or Criticism" at [email protected]
Please indicate: "China – TT -CCD" in the subject line.